Note: Please read the article carefully before proceeding! If in the process of using you encounter any errors, such as broken download links, slow loading blog, or not being able to access a certain page on the blog … then please inform me through the Contact page. Thanks!
You may have seen a * .webp format image somewhere, right? So, do you know how to convert the * .webp format to a familiar PNG or JPG image format?
Yes, if you do not know anything about this image format, I will explain it to you in order to make it easier for you to imagine.
#first. What is * .webp image format?
WEBP is an image format that was researched and created by Google, this image format is very small in size, and it is considered the successor of the former JPEG image format.
Read more
The webp image format uses a better, more optimized compression algorithm, so the file size will be much smaller than popular formats like PNG or JPG (about 19% to 64%).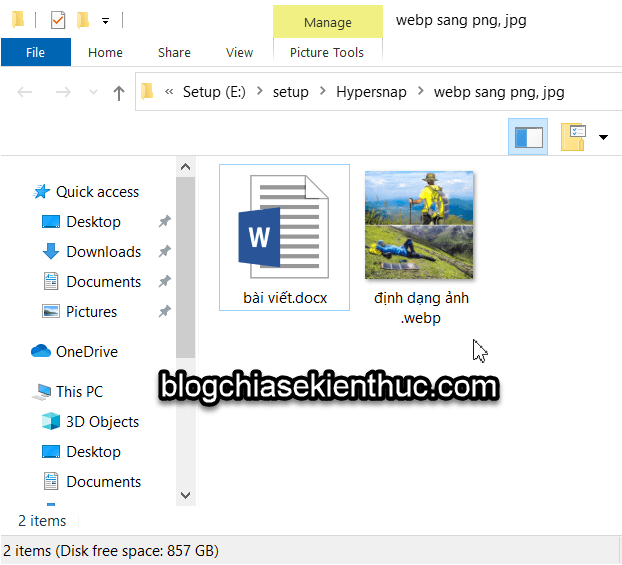 #2. Who is the webp format?
Yes, this image format is extremely suitable for Webmasters, who are managing a website. Because the small image size will help improve the load speed of a website, save bandwidth and save the memory storage of the Server.
Many Google services are using this .Webp format, other big sites are also using such as eBay, NetFlix, Google Play …
Well, generally only webmasters prefer this image format, and for users or designers, they really hate this.
+ For users, they are uncomfortable in that, when downloading, there is no software that supports reading this format, it will display the image file as shown below. Many people mistakenly think this is an error when downloading!
+ And for those who specialize in graphics, image design … then they don't like it. Because specialized software such as Photoshop cannot read this image format.
# 3. How to convert webp format to PNG or JPG?
How to convert image formats from Webp to PNG or JPG is extremely easy, even if you do not need to use any 3rd party software to convert.
Method 1: Convert webp images to JPG or PNG format (no software needed)
We will use MS Paint tool available on Windows operating system to do this, how to do the following:
+ Step 1: Right-click an image in the format .webp => and then select Open with => and select Paint as shown below.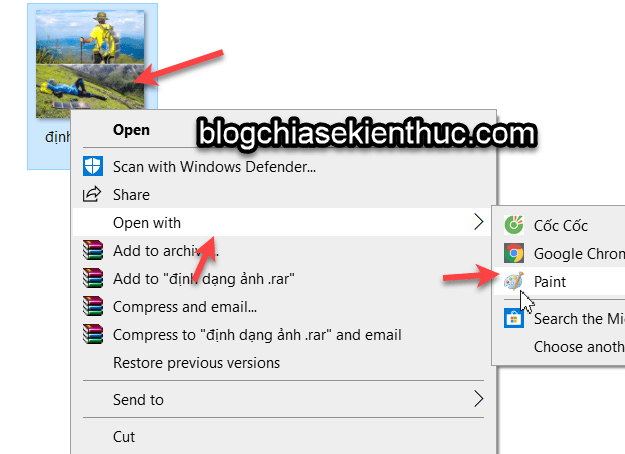 + Step 2: Next, you choose File => select Save as => then select the image format you want to save as done.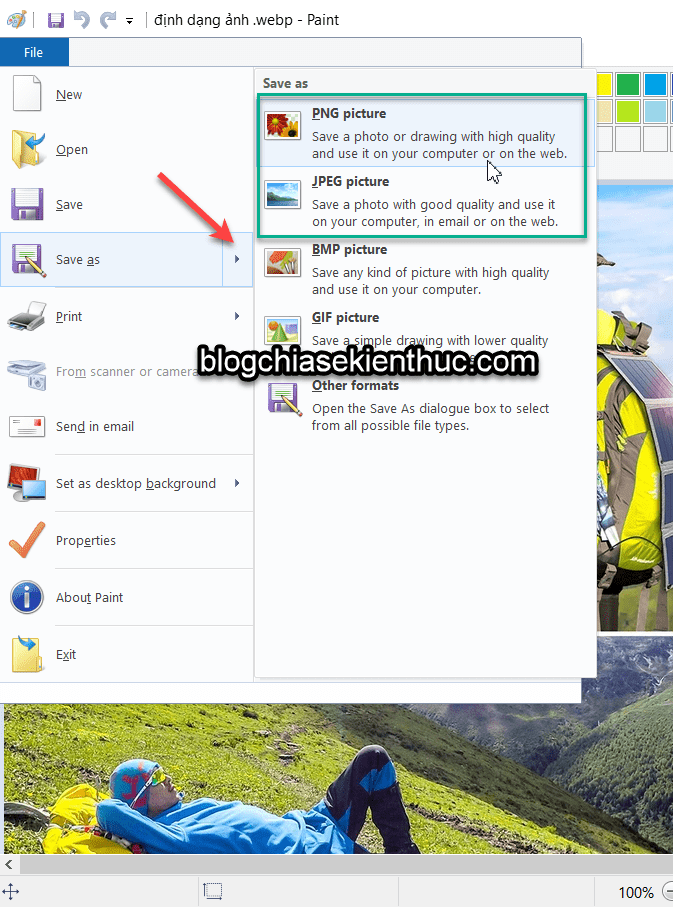 + Step 3: Check the result, webp format image has been converted to PNG format then 🙂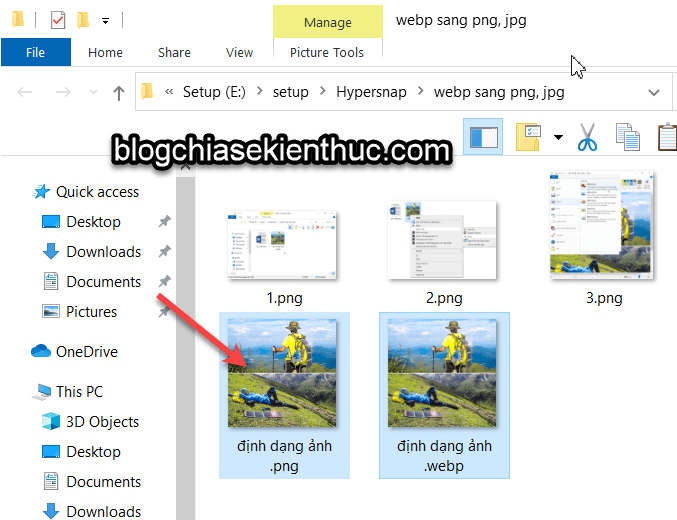 Method 2: The website supports converting Webp format to PNG or JPG
Another very useful way is to use an online tool to do this. In this article I will show you how on the page convertion.co
Perform:
You access to this address => then click the button Chọn tập tin
Click the button Chuyển đổi..
And download the photo, it couldn't be simpler, right 😀
Update: In addition to the website above, there are many websites that support converting webp image formats to PNG or JPG. You can try sites like:
https://cloudconvert.com/webp-to-png
https://www.zamzar.com/convert/webp-to-png/
https://www.freeconvert.com/webp-to-png
https://image.online-convert.com/convert/webp-to-png
Method 3: Extensions support converting webp to JPG or PNG
This is also very simple, you install the extension named Save image as Type here !
Note: This extension is for Google Chrome and other web browsers that use the Chromium kernel (Coc Coc, Microsoft Edge ..).
You clicked ADD TO CHROME => select THÊM VÀO CHROME to install the extension is fine.
Now, to use is very simple. You right-click on the image you want to download to your computer => then select Save image as JPG/PNG/WEBP...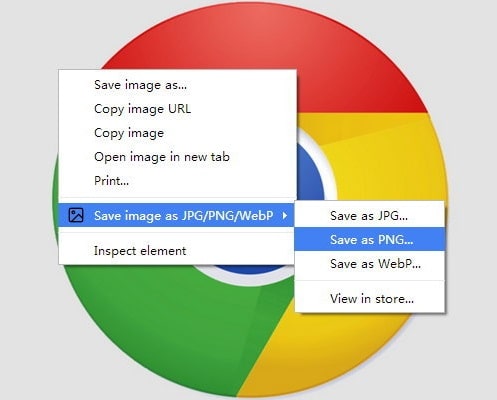 Update more: Alternatively, you can use other similar extensions, such as:
Save Image As PNG: Setting here / After installing this utility, when you right-click on the image, it will have an additional option called Save Image as PNG for you to save the image in PNG format.
There are many other extensions, but I think with these 2 extensions is more than enough!
Method 4: The software converts webp image format to PNG or JPG
There are many software, but in this article I will introduce you to a free software, support Portable version without installation when used, and in addition to converting webp format to PNG , JPG, GIF, ICO … so you can do many other things.
+ Step 1: You download the XnConvert software here or here !
+ Step 2: Then you proceed to install on the computer, if you download the Portable version, you unzip it => run the file xnconvert.exe to start using it.
+ Step 3: You switch to tab Output Then set the basic as follows:
Select the folder containing photos after Convert done => you click on the … at the line Folder => then at the section Format You choose the format you want to convert to.
+ Step 4: Now you move to tab Input => click the button + Add Files... To add 1 or more image files that you want to convert => then press Convert is done.
# 4. Epilogue
Okay, so I have shared it with you guys How to convert WebP image format to PNG or JPG format The simplest and most effective offline.
In addition to the above, if you know any other useful way, don't forget to share again in the comment section. Thank you!
Hope this article will be helpful for you, wish you success!
Kien Nguyen – Blogchiasekienthuc.com
Note: Was this article helpful to you? Do not forget to rate the article, like and share it with your friends and relatives!